Welcome to Shri Guru Har Govind Sahabh Ji Memorial College Of Education
Intorduction
Shri Guru Har Govind Sahabh Ji Memorial College Of Education aims to impart qualitative education to its students so as to sharpen their analytical skills and decision-making abilities. The students are trained to strive for individual excellence and at the same time nurtured for teamwork through various activities. We believe that education is a lifelong process till death does it apart. After primary education, higher education plays a key role in shaping an individual towards success and his contribution to the community at large. The quality and true success of an educational institution is not only measured by the facilities, infrastructure, staff and number of students in it; but also by how effectively it challenges its students, expands their horizon, and thereby prepares them for their future career as professionals. Excelling this preparation must take into account not only the substantive knowledge and analytical abilities that professionals need, but also the practical skills, judgment making and ethics required for the demanding global scenario, which comes only by experimenting and trying out new and weird things in your respective fields, we at Janhit fully promote and support such kind of an education, we believe that education should be a fun experience

Imparting quality higher education has been a challenge and question for almost all the institutions; we have bravely accepted this challenge and since our inception we have made this challenge our mission. It is because of this bold and innovative approach towards education we have been able to produce highly skilled and trained human resources who are currently playing a key role in various sectors of the community as academicians, business men, researchers, advocates, administrators, etc and this is just the tip of the iceberg!!!
We on our part have tried to make a modest contribution to the society and we implore you to join us in our endeavor in using education for creation of a better world.


Secretary Message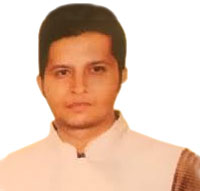 FEW WORD'S FROM SECRETARY – MR. Sanjay Chaudhary
I warmly welcome the aspiring students to the fraternity of the Shri Guru Har Govind Sahabh Ji Memorial College Of Education where we provide an environment in which enthusiastic & committed people will have access of high quality learning & teaching supported by staff drawn from academic & professional background. .